Here we are again and again I am a day late!
I am glad I have got to week 6. In my mind it is confirming that this project isn't just something to do one a whim but that I am committing to documenting life for the year. Project Life is changing my photography habits too. I know that at the end of each week I will be looking for photos to put in the album therefore certainly the big camera gets more of a workout!
I know that there are different ways of tackling PL. Mine is the least scientific. I find a couple of hours on a Sunday and make my two pages. I don't mind too much about coherent papers etc. I am still working mostly from the seafoam and olive kits but also add some of my own creations into the mix.
At week 6 I have found I like neutrals and pops of colour, that keeping to just two fonts was a good idea and that I hardly ever just pop a photo into a space without adding anything to it!
A few weeks back I played around with splitting a photo across several of the slots. I really liked that effect so did it twice on this first page with my photos of the library.
I often take words from the blog and use them for journaling in my PL album. The journalling here was taken from my previous post about the cathedral library.
I also played around on this page with combining three photos onto one 6 x 4 on the bottom left. I find this is a great way of getting lots of photos in, especially ones that go in a set like these do.
The second page documents my trip to Edinburgh. I decided to write straight on the photo of the city as it had some great white space at the top.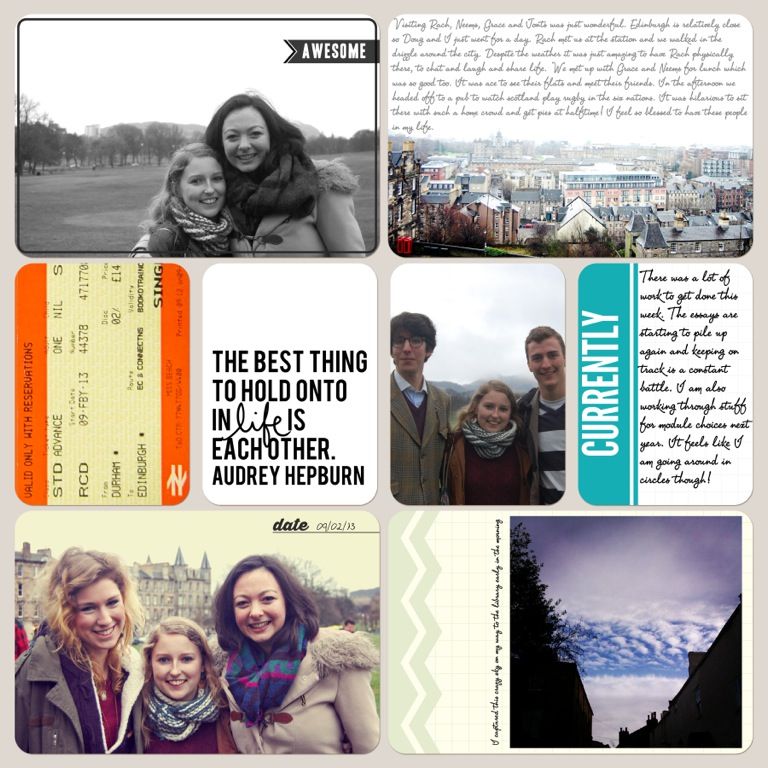 If I was doing the album in paper form I would have included my train ticket. As it was, I photographed and cropped it and added it to one of the spaces. I am so glad I did and I think that I am going to try and repeat this with other tickets and receipts that would have normally gone in.
I love looking back on the pages and seeing how they differ. I am still so excited by this project.