Once upon a time, a Little Rabbit lay in pieces on a wooden desk.
She had arms, legs, two ears, the makings of two shoes and the pieces of a pretty dress.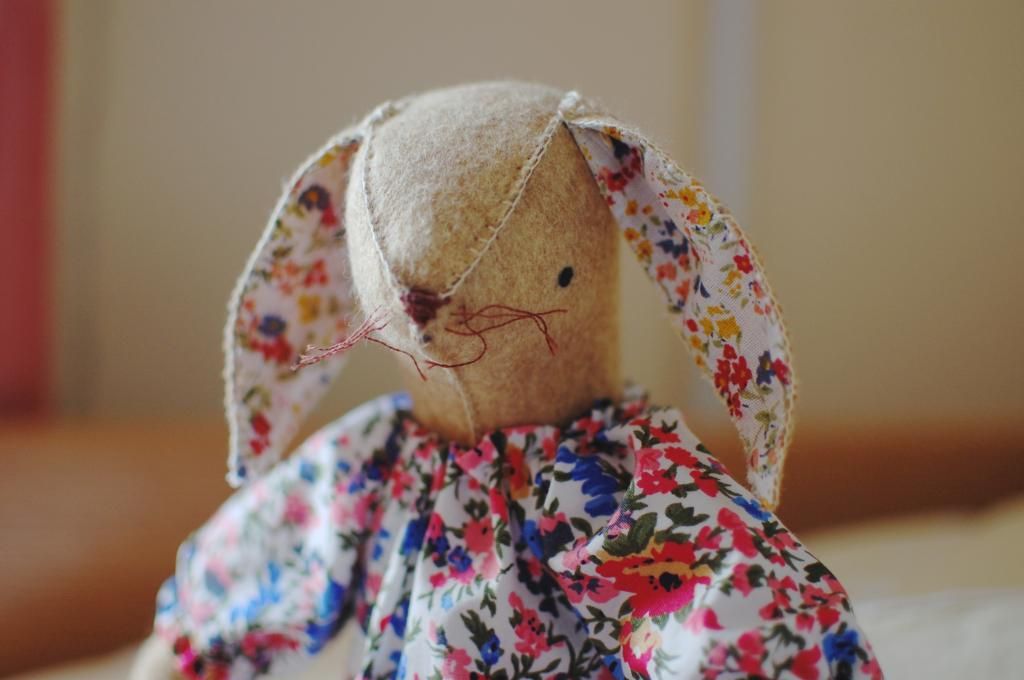 Night by night the maker sewed her together with little tiny blanket stitches. First the arms, then the legs.
One exciting evening she carefully stitched in two dark blue eyes, a little brown nose and some whiskers.
By the beginning of November she was starting to feel more solid. Stuffing was placed inside her, from her head to her toes. Her ears were sewn on and flopped prettily down her face.
Arms and legs were attached securely to the body.
The weather was getting colder now and she felt chilly hiding under the desk. The maker found some gorgeous material from the market and started sewing up the dress, cursing the fact that she had to do it by hand as she had no machine.
It was an exciting day when the dress was pulled on over her head. It matched her ears and made her eyes shine.
The last little thing for the maker to do was to sew up the boots. They were the makers favourite bit so she saved them till last. She laced them up and placed them on the rabbit's feet.
From the makers hands had come Maggie Rabbit.
It was a happy and hard day when the maker wrapped her up in tissue paper to hand to a birthday girl.
But that was where she was intended to go all along.
And the maker was pretty sure she would be very loved.
This was my second time making a Maggie Rabbit. The pattern is from
Alicia Paulson
and can be downloaded as a PDF. It is such a sweet pattern and super easy. It is all sewn by hand, except the dress which can be sewn by hand but will take you just five minutes on a machine!
She is an adorable little bunny. My friend S. was delighted with her. I wouldn't say it is a speedy project but I did a little every night in front of the telly and was so pleased with the result.
The pattern suggests using national non-wovens felt. I think this can be found on etsy but I didn't have the time to get it shipped from the states so I got mine from
The Eternal Maker
who delivered it super quickly. The pattern suggests the colour 'sandstone' but I used 'hay bale' and I think it looked just fine!
Have you ever had a go at making toys?