I came back from holiday with far too many photos. Normally this is a cause for celebration with project life. This time it left my head in a muddle.
I didn't want to prune out a load of photos and thereby miss some of the story but at the same time I have a finite amount of time and will power to get these project life spreads done. I knew I needed to do them fairly swiftly when we got back because I have a memory like a sieve.
I therefore set myself a few rules.
a. I had a weekend to do it in ( you know how much I love my deadlines!)
b. I could work over as many double page spreads as I needed to.
c. I didn't have to create a page in the same way I normally do. I knew the pages would be photo heavy and word heavy and that was fine. They would be different but I chose to roll with that!
So off I set and I'm pretty happy with how my layouts turned out. I split the holiday into three double page layouts. Weeks, 31a, 31b and 32.
I knew that I would struggle in a few months time to remember where each of the places were so I created a simple time stamp with what day of the holiday it was and the place we visited. I then added this to any photo I felt needed it. I hope this brings a little bit of consistency to the pages.
Other than that I just went with the flow and what felt right. Chronological felt good and I chose pictures based solely on which told the story best. I used the old technique of putting more than one photo on a journalling card to try and squeeze them all in!
I guess I used less techniques on these pages. Most of the time it was just a journalling card or writing directly on the photo.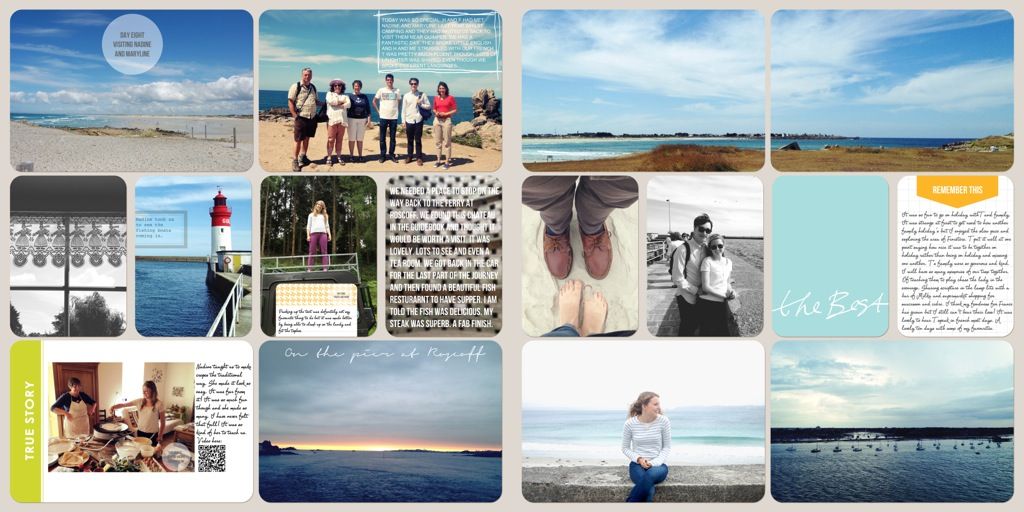 Although I was set to go in a chronological order I knew I wanted one page at the back with photos and a little journalling card with my thoughts. I chose my favourite photos and let them speak for themselves.
I am coming to realise that one of the joys of project life is that big moments and little moments sit side by side. That there can be two weeks like this where there is so much to cram in and there can be weeks when not a lot has happened when the photos mostly consist of the odd project or the view from my window. I think I'm learning to roll with it. Life is in no way consistent and hey, my album won't be either!