Dear Project Life, I have neglected you lately. My creative energy has been sapped into work and I'm sorry. But you know what, I have got home and those ideas they are coming at me in force.
So, because I enjoy posting it here and because I value when others post their project life pages, this is week 49 in all its glory.
Photos:
The penultimate week of term so quite a few photos to document. I had a few silly stories I wanted to include such as our triumph at changing the bulb in the ceiling light of the bathroom.
I also had lots of photos from our secret santa evening. The top photo on the right hand spread had a good amount of white space. In photoshop I cloned out the picture that was hanging on the wall behind the sofa so as to make more space to write.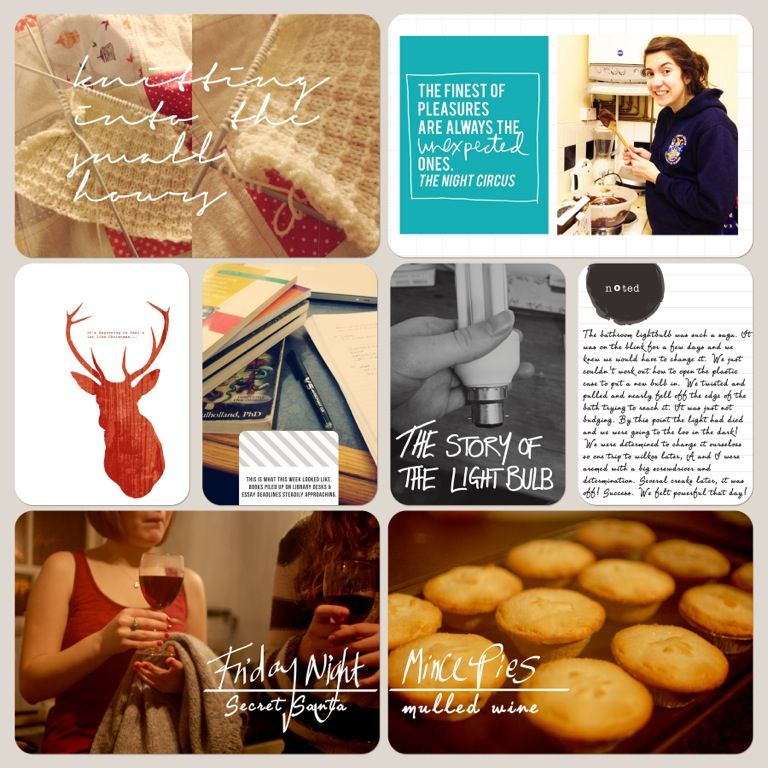 Journalling:
I did my usual techniques for journalling this week- lots of journalling cards stuck directly on photos and titles written on too. I got out the graphics tablet again and really enjoyed adding some of my own handwriting to this weeks spread.
Techniques:
I needed a few fillers this week and have really liked the more clean and graphic side of project life that I have seen appearing. I had a play around and created those three red christmas 3 x 4 cards in that style. If you would like either the "comfort and joy" card or the "merry and bright" card I have them saved on file and would be happy to email them your way!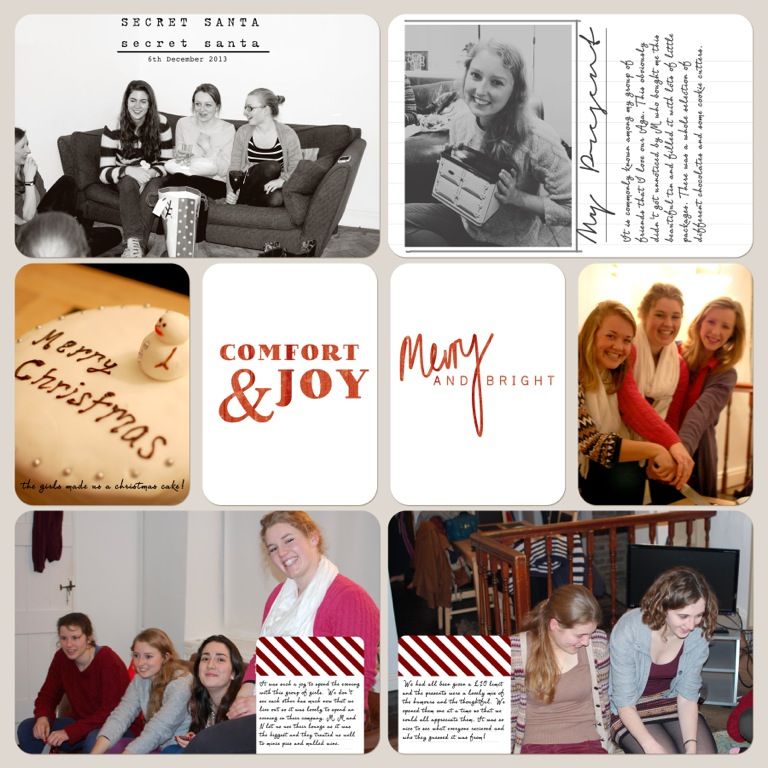 Anything else:
I started putting the book together this week! Yes, you heard that correctly, the book is in production. I am itching to get it all uploaded and sent off but am hanging in there because I know that blurb do some decent discounts and the size of this book could mean it will be fairly pricey.
There are some weeks I have missed this year, I think two, and I debated about catching up. I then decided that doing so would be counter productive. I have few photos from those weeks and I certainly can't remember the detail of what happened. In the years to come I am not going to miss two weeks. Keeping it real folks!
I am planning and sketching and thinking about next year and my thoughts on this year. Stay tuned for more details on where I want this project to go in 2014!